Society of Facility Engineers
 Building Operators
&

General Maintenance Workers
WE ARE AN ADVOCATE FOR BUILDING OPERATORS & MAINTENANCE WORKERS
The Society of Facility Engineers (SOFES) promote building operators and maintenance workers through the issuance of skilled trade certifications and raising money for social economic causes.

Why Train and Certify?
An untrained and non-certified building operator or maintenance worker with a well placed screwdriver can lead to a catastrophic failure resorting in loss of life, limb and property.
The instructor-led classroom training often is not enough to assure workers from deadly mishaps and hazards.  Most of this type of training is for a specific trade, such as heating, ventilation, and air conditioning, electrical, plumbing or carpentry.  The hands on, on-the-job training by a seasoned worker familiar with the company's business, buildings, and building systems and equipment covering those trades and many more must be considered.  With the average commercial and industrial building being 40 years old and building equipment much older, a building operator or maintenance worker must be able to operate and service new and aged building systems and equipment. He or she must not rely only on local, state or federal inspections to ensure occupants and the facility(s) are safe and secure.
Companies over the past two decades have found it increasingly more challenging and costly to hire and maintain a building operator or maintenance person able to perform the required duties, abide by local, state and federal laws, and to protect its occupants from unforeseen hazards due to a lack of a seasoned worker for guidance.
Companies differ in many ways from building type, building systems and equipment.  The building systems and equipment in most companies 40 years old or older has been altered from the original so many times there are few or no operation and maintenance instructions for upkeep.  This perhaps is one of the main reasons a seasoned building operator is retained and why the Vocational Institute of Michigan begin a facility engineer technician program many years ago and the Society of Facility Engineer was formed to issue and oversee skilled trade certifications.  
The Vocational Institute of Michigan in its more than 25 years of on-the-job building operator and maintenance internship training, assisting in pressure vessel device testing, code inspections, and building operations and maintenance monitoring has helped to license, certify and place hundreds of building operators and maintenance workers.  Its staff well seasoned in building operations and maintenance has years of in-plant experience in helping building operators and maintenance workers with hybrid building systems and equipment.
The need for a seasoned building operator or maintenance worker has also motivated the Society of Facility Engineers to offer companies assistance in overseeing building operations and maintenance.   
Founded by a US Army Combat Engineer Veteran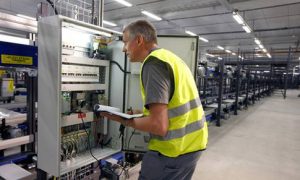 There is no better time than now to use your hands. With 500 working hours in building maintenance a person is eligible to apply for a Society of Facility Engineers Technician certification.  For those with less than 500 working hours or no working experience an entry level course is suggested (contact the Vocational Institute of Michigan). A SOFES certification verifies the holder has working knowledge and experience in building maintenance.
SOFES' education provider, the Vocational Institute of Michigan, partnership with industry enables the learning center to assist students in finding a building maintenance internship.
Interns while receiving six month to one year hand-on, on-the job training may earn a paycheck. Starting pay, usually above $33,000, often increases as skills improve.  Health care and retirement benefits may be included. The internship is part of a Vocational Institute of Michigan "Facility Engineering Technician" two-year diploma program. 
The US Congress has appropriated at least $1.5 trillion spending for infrastructure construction, fueled with government spending including public private partnerships to address America's skilled labor shortage. According to the Department of Labor, the US economy had 7.6 million unfilled jobs, but only 6.5 million people were looking for work as of January 2019. 
To be considered for SOFES certification or entry level internship complete the form.